Google Apps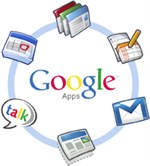 Grayson College is proud to offer Google Apps for Education (GAFE) services to all faculty and staff. GAFE is a collection of web-based collaboration tools, including email, chat, calendar, word processing, and spreadsheets. These tools work through a web browser without requiring users to buy or install software.
All faculty and staff receive a Google Apps account for access to Gmail and related Google Apps when they receive their Grayson user name and password.
Available Services

Login to your Gmail account here:
http://mail.google.com/a/grayson.edu








Additional Google Services
The services listed below also have been enabled for Google Apps accounts. You are able to sign in to these services directly, using your grayson.edu email address and password.
The following Google products can also be installed and used on college-owned computers:
Please note: Grayson is only able to provide support for the services that are a part of GAFE (Gmail, Calendar, Chat, Sites, and Docs) and Google+. While Grayson can answer questions about accessing the services and products listed above, support will be handled by Google via their online help links within each service or product.
Getting Help
For technical support (including providing answers to usability and "how to" questions) go to the Google Apps Help Center . For questions about account creation and maintenance, contact the Grayson Help Desk .