Miller Barber Benefit Golf Tournament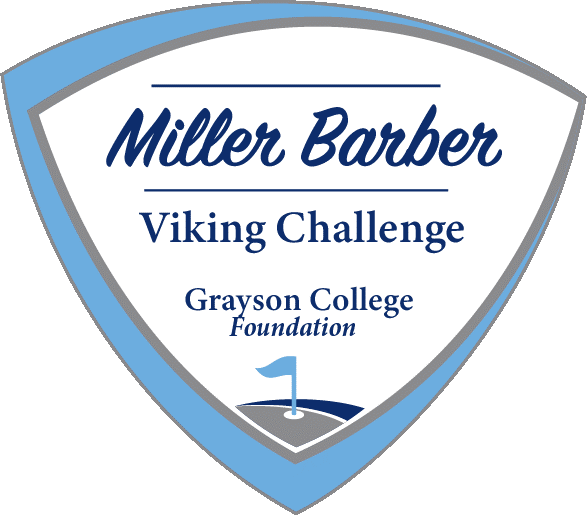 SAVE THE DATE and join us on Monday, Oct. 3rd, 2022, for the 2022 "Viking Challenge" Miller Barber Golf Tournament—benefiting the Grayson College Foundation.
---
The 2022 "Viking Challenge" Golf Tournament provides an exciting opportunity to show your support of your community college. Proceeds from the tournament will provide scholarship support for Grayson College students.
The tournament will be played at the Tanglewood Golf Course in Pottsboro, Texas.
Your support as a Sponsor or contributor could make a tremendous difference in enabling students with financial need to pursue their college education. As a sponsor or contributor, you will receive one or more spots in the Tournament. Use it yourself or give it away to one of your friends, valued customers, or employees.
---
Sponsorship Recognition Levels
Level 1 - $10,000
Tournament Named after you/your Brand
Large Name/Brand Logo and on top of all major signage at event
Large Name/Brand Logo and on top of all print promotion and collateral
Tee Box Sign
Large Name/Brand Logo in all print advertising
Large Name/Brand Logo in all television promotion
Large Name/Brand Logo on event website at the top
Name/Brand Logo included in all event news releases
Verbal Recognition at Lunch and Awards Ceremony
Level 2 - $6,000 to $9,999
Medium Name/Brand Logo on all major signage at event
Medium Name/Brand Logo in all print promotion and collateral
Tee Box Sign
Medium Name/Brand Logo in all print advertising
Medium Name/Brand Logo in all television promotion
Medium Name/Brand Logo on event website
Name/Brand Logo included in all event news releases
Verbal Recognition at Lunch and Awards Ceremony
Level 3 - $4,000 to $5,999
Name Listed on all major signage at event
Name Listed in all print promotion and collateral
Tee Box Sign
Name Listed in all print advertising
Name Listed on event website
Name Listed in all event news releases
Level 4 - $2,000 to $3,900
Name Listed on all major signage at event
Name Listed in all print promotion and collateral
Tee Box Sign
Name Listed in all print advertising
Name Listed on event website
Level 5 - $500 to $1,999
Name Listed on all major signage at event
Name Listed in all print promotion and collateral
Name Listed in all print advertising
---
Interested in becoming a 2022 Viking Challenge Sponsor?
Sponsor/Register for the Tournament
Contact Dolores Synder:
903-465-2594
snyderd@grayson.edu