Frequently Asked Questions

Frequently Asked Questions
Where do I begin the process of applying for and acquiring financial assistance?
The first step for students who want to apply for financial assistance is to complete and
sign the Free Application for Federal Student Aid, also known as FAFSA. Students can
fill the FSFSA out at studentaid.ed.gov/sa/fafsa.
Students will need to create a FSA ID in order to sign their FAFSA before they submit it
for processing. For dependent students, one parent must create an FSA ID in order to sign
their student's FAFSA. Students and/or parents can create their FSA ID at fsaid.ed.gov.
What documents are needed to complete the FAFSA?
Social security number – may need both student and parent.
Alien Registration Number (if you are not a U.S. citizen) .
Tax information for two years prior to the FAFSA (ex: for the 2020-2021 FAFSA
students and/or parents will need their 2018 tax information.)
Records of untaxed income (if applicable).
FSA ID to digitally sign the FAFSA.
What is Grayson College's school code?
GCC's school code is 003570
Do I need to be a full time student to be eligible to receive a Pell Grant?
Every student is different, some do not have to be full time to be eligible to receive the
Pell Grant where others are only eligible if they are enrolled full-time. The Pell Grant
award is prorated based upon enrollment status and the Students Expected Family
Contribution (EFC) which is calculated by the Department of Education when they
process your FAFSA.
When will my eligibility be calculated?
The first day of class, a student has enrolled for in a given semester is the official date
Title IV eligibility is calculated. Students not enrolled or who have been reported by their
instructor as "no show" by the census date will not have earned Title IV aid and will
be responsible for institutional charges that may have been incurred or any Title IV aid
that was disbursed.
How do I apply for Title IV assistance if I am attending another institution?
A student cannot receive Title IV at more than one institution at a time. The student must
decide which institution will be considered their "home" institution and who will be
disbursing their Title IV funds.
If a student is attending Grayson College as well as a four-year institution they can
possibly do a Consortium Agreement where the four-year institution will be the "home"
school and the student will receive all of the aid there and Grayson will be considered the
"host" school. Any student interested in a Consortium Agreement will need to contact
their "home" school.
How do I transfer my financial aid to another institution?
The student is encouraged to contact the Office of Financial Aid at Grayson College, so
that we can cancel future disbursements of funds. If the institution to which you are
transferring is not listed on your FAFSA, you will need to log on to your FAFSA and
add the new institution. This change can take 3-5 business days for the Department of
Education to process.
What will happen if I drop a class or withdraw from all of my classes during a
semester while receiving financial aid?
It would have no effect if you maintain the same enrollment status (i.e. full-time, half-time,
three quarter time, less than half time) that you held prior to dropping the class. It will
only change the amount of your tuition. If your credit load changes from full-time to three quarter time
or less and you never attended, your aid will decrease to match your enrollment. This may cause a
balance on your Billing Statement.
If you drop all courses or you receive all F's in a semester you may be subject to repay
Title IV Financial Aid Funds which includes Federal Pell Grant and any Federal Student
Loans.
You will be subject to satisfactory academic progress standards that require you to
complete a certain percentage of hours attempted. You may obtain a copy of these
standards from the Financial Aid office or on our website in the Satisfactory Academic
Progress Policy.
If you have appealed for the current semester and were placed on an Academic Plan you
will need to meet the conditions laid out in the letter you received from the Financial Aid
Office.
If I am not eligible for a Pell Grant is there other financial assistance?
Yes, there are many forms of financial assistance that you may be eligible for: Texas
Education Opportunity Grant, College Work-Study, Federal Student loans, or on campus
and off campus scholarships.
Are there priority dates within the Office of Financial Aid?
Need-based financial aid applications will be processed on the basis of availability of
funds. In order to be considered for all of the programs for which they may be
eligible, applicants are urged to have a completed FAFSA on file before the
priority deadline.
The state priority deadline for the 2020-2021 FAFSA is January 15th.
Each individual scholarship has its own deadline. Late applicants should be prepared to
meet initial expenses (tuition, fees and books) from their own resources.
No notification or award will be made until all required documents have been received.
You may review your MyViking for missing documents that are still required to
complete the process of your file.
Do I need to complete the FAFSA before applying for a student Loan?
Yes, it is mandatory for students to complete the FAFSA before applying for a student
loan because the FAFSA allows the Office of Financial Aid to determine your general
eligibility for a student loan.
The subsidized loan awarded is based upon need. The need is determined by the results of
the FAFSA. Additional information regarding the types of loan available to our students
may be located in the financial aid office or the institutions website.
Is there a separate application to apply for a student loan?
Students who are interested in applying for Federal Direct Student Loans must fill out the
loan request form located in the Financial Aid Office. Students are required to fill out their
Master Promissory Note (MPN) and Entrance Counseling at studentloans.gov. We advise
that all borrowers complete our in-house loan advising as well.
Students can also take out an alternative loan by going to hhloans.com and must fill out
the Intent to Apply form located in the Financial Aid Office.
Students who parents want to take out a loan to pay for their student's education can apply
for a parent PLUS loan by filling out the PLUS application in the Financial Aid Office.
We strongly suggest any student who takes out a loan of any kind complete our in-house
loan advising for up to date information on their loans.
How many hours must I be enrolled in to be eligible for and receive a Student
Loan?
You must be enrolled in no less than 6 hours and making Satisfactory Academic Progress
or on an Academic Plan.
Will my credit history affect my student loan?
No; although Parent PLUS loan applicants are subject to a credit check.
How long does it take to process my student loan?
Federal Direct Loans can take 2-3 weeks to be processed by the Financial Aid Office.
Once the loan request form is processed students are responsible to accept the loans on
the Financial Aid tab on their MyViking.
Is there a separate application for Federal Work Study?
Yes, students interested in working on campus or off campus as a tutor for elementary
students must complete and return the Work Study Application that can be downloaded
from the institution's website or picked up at the Financial Aid Office. These positions
have a hourly wage of $9.00 an hour. All students must give consent to a background
check.
Is there someone available to assist students completing the FAFSA?
Yes. The Office of Financial Aid has computers/personnel available to assist students in
filling out the FAFSA. Students/Parents are encouraged to bring copies of their tax
returns, W-2's and FSA ID(s) with them in order to complete the FAFSA.
What is MyViking?
Students can access their MyViking by going to myviking.grayson.edu. Once the
login page comes up students will need to claim your account by following the steps laid
out for you. MyViking is where all of your information from the documents
students need to submit to their financial aid is located. They can also view their
financial aid there as well.
Is there a separate application for applying for Grayson College
Scholarships?
Yes. The priority deadline for the 2020-2021 is March 20th. This application can be located at graysonscholarships.awardspring.com. The application is completely electronic and can be submitted as such. The final deadline is August 21st. 
Are there any guidelines that must be followed to apply for and receive a GC
Scholarship?
Yes. Please note the following:
Complete scholarship application each academic award year and return the
application and requested documents to the Office of Financial Aid.
Scholarship funds may be used for tuition/fees/books or supplies in the
semester awarded.
Scholarships may be reduced or rescinded if aid exceeds cost of attendance.
Scholarships may be reduced or rescinded if institutional maximum
scholarship award is exceeded.
Institutional Scholarships are non-transferable, and must be used in the
semester awarded.
Additional documentation required and/or an audition may be required for
various departmental scholarships.
Can financial aid pay for a minimester or fast-track classes?
Minimester terms may qualify for financial aid. Students are encouraged to contact the
Office of Financial aid to determine if they have eligibility before enrolling in a
minimester.
Satisfactory Academic Progress Frequently Asked Questions
How do I remain eligible for Financial Aid?
Maintain a cumulative Grade Point Average or GPA of at least a 2.0.
Have a completion rate pace of 67% or higher for all courses attempted.
Complete their degree within a timeframe of 150%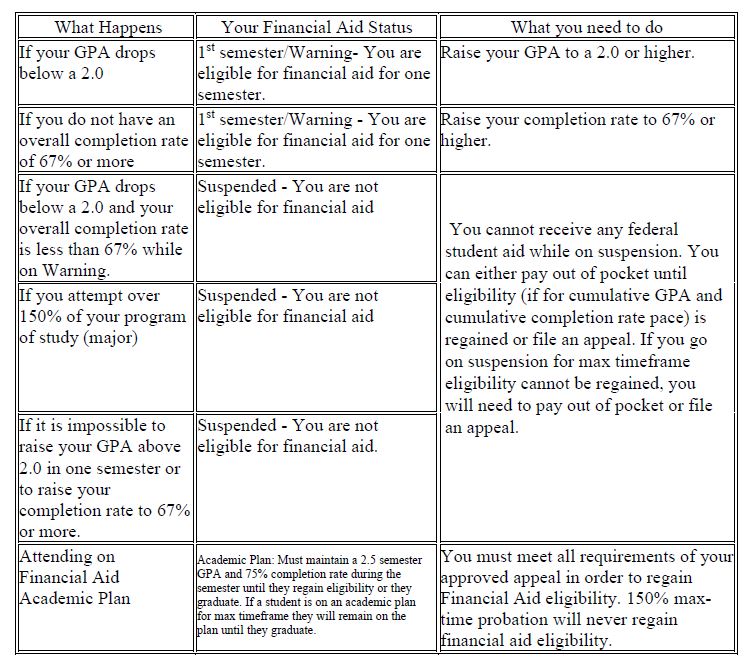 Check this out: GPA Calculator - Raise My GPA
Glossary:
SAP: Satisfactory Academic Progress means a GPA of 2.0 or Higher. A completion rate of at
least 67% or higher, and the attempted program hours have to be less than 150% of published
program length.
GPA: A measure of a student's academic achievement at an institution, calculated by dividing
the total number of credits or hours. Students must maintain a cumulative GPA of at least a 2.0.
Pace: The total number of hours the student has successfully completed divided by the number
of hours the student has attempted. Must be greater than or equal to 67%.
Maximum Timeframe: Hours cannot exceed 150% of the published length of the program. Ex:
total number of credits to receive General studies degree is 60 credits, you cannot exceed 90
credits.
Appeal: A process for a student who fails to maintain SAP to petition the school for a
reconsideration of eligibility to receive Federal Title IV funds, State, Exemptions and other
financial aid funds.
Approved Appeal: Student will be placed on an Academic Plan and will have to meet terms of
plan as stated in approval letter.
Denied Appeal: Student will not be eligible to receive certain types of financial aid. Including
Federal, State, and some institutional scholarships.
*

Mitigating circumstances

: Are situations beyond the student's control and may include: a
death, injury, or illness of the student or in the immediate family or other special circumstances
and may include:
A death in the immediate family
Injury or illness of the student
Other special circumstances
Mitigating circumstances DO NOT include:
Student felt overwhelmed
Student changed work schedule
Student did not like the instructor or had a conflict with the instructor
Student did not understand college and wasn't ready or mature enough
Death or illness of a friend or relative not in immediate family
Withdrew or stopped attending to avoid a bad grade
Student states: Nobody told me that would affect me
Last Updated:1/30/2020