Students with Disabilities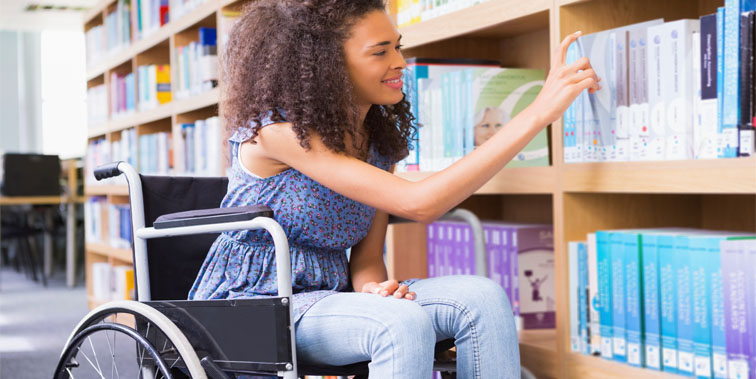 We've moved to our new location.  We are on the north side of the second floor in the newly constructed Student Success Center Building.  
The faculty and staff of Grayson College are dedicated to providing students with disabilities and special needs full access to programs and services by providing reasonable and effective accommodations that promote student independence.
Disability Services Coordinator
Jeffri Johnson Hodge
6101 Grayson Drive, Hwy 691
Denison, TX 75020
Phone:  903-463-8751
Email:  hodgej@grayson.edu
How to Request Academic Accommodations
Students requesting reasonable accommodations under the ADA must provide information to the Disability Services Coordinator from appropriately trained professionals, such as physicians, educational diagnosticians, licensed psychologists, psychiatrists, or other qualified professionals. Determining whether students are disabled as defined by the ADA and therefore entitled to reasonable accommodations is based on the documentation submitted. Documentation becomes part of students' educational records and is protected under the Family Educational Rights and Privacy Act (FERPA).

Contact the Disability Services Coordinator
Students who have applied for admission to Grayson College may contact the Disability Services Coordinator at any time during regular office hours in the Testing Center (2nd floor of the Student Success Center).  Days and hours vary during mini-mesters and summer semesters.  Students should complete the applicable request form below.  The completed request form and supporting documentation should be sent to hodgej@grayson.edu or faxed to 903-465-2275.
Students who are requesting accommodations for the first time at Grayson College complete the Accommodation Request and New Student Intake Form.
Students who have previously requested accommodations and submitted supporting documentation to the Disability Services Coordinator complete the Accommodation Request Form for Returning Students. 
Submit Supporting Documentation
A specific diagnosis, including level of severity and duration
The specific findings in support of the diagnosis, such as relevant history, tests administered, test results, and interpretation of test results
A description of the student's functional limitations (symptoms) as they directly relate to the stated disabilities and impact academic performance
Disability management by assistive devices (such as hearing aids, walkers, etc.) medications, treatments or other coping mechanisms as well as side effects caused by medication for treatment of conditions when impacting academic performance
Specific recommendations for reasonable accommodations (such as note takers, extended testing time, sign language interpreters, etc.) necessary for equal access in the academic environment
Documentation on the professional's letterhead, signed and dated, with contact information, such as address and telephone number
Service Animal and Assistance Information:
Additional Documentation
Academic accommodations may not fundamentally alter the nature of an academic program; consequently, some programs will require additional documentation before accommodations can be approved for those classes and assessments. The following programs have provided guidance on this requirement:
Nursing Programs: State licensing of nurses requires successful performance on the NCLEX-RN or NCLEX-PN exams, and the Texas Board of Nursing's guidelines for special accommodations based on ADA considerations are applied to those assessments. Those Texas Board of Nursing policies, further inform the policies followed by the Nursing Programs at Grayson College.  These forms and a fuller explanation of these procedures will be available from the Office of Disability Services. 

Schedule a Conference
The student and the Coordinator of Disability Services will work together to determine appropriate academic accommodations for the entrance exam, if needed, and college courses. 

Submit Approval of Accommodations to Professors
Approval forms are given to students to present to their professors or appropriate college officials. Forms state that students have provided evidence of disability and indicate the specific academic accommodations for which students have been approved.

Please note:
Students are responsible for delivering approval forms to their professors or other college officials.
Some students may opt to receive accommodations in one class, but not receive accommodations in others.
Approval forms are not retroactive and must be updated each semester.  Students submit a written request at the beginning of each semester for which they are enrolled. 
If students with disabilities attempt a class without requesting accommodations, they cannot, unless given special approval by the professor, ask to have accommodations applied to previous course work, exams, or quizzes.
Faculty Guidelines
Instructors are asked to read and familiarize themselves with the Faculty Guidelines for Accessibility Services.