Grayson College celebrates Spring 2022 graduates
Date: Fri, May 13, 2022 06:24 PM
Friends and family watched as 421 Grayson College students received diplomas and certificates during two ceremonies Friday. The two ceremonies were divided by pathway with Arts & Humanities and Business & Entrepreneurship at 10am and Health Sciences, Industrial Technologies, Public Services and STEM at 1pm.
"At Grayson College, when we talk about having students commit, we invite students to be partners in community building and developing personal momentum toward reaching milestones along your path to your degree," Dr. McMillen said during the ceremony. "At Grayson College, everything we do is designed to help you complete your degree. Graduates, you can check all three boxes – connect, commit and complete."
Of the 421 students receiving degrees Friday, 297 Associate Degrees, 28 Bachelor of Science in Nursing Degrees, 126 Certificates and 40 Enhanced Skills Awards were awarded. The College's graduates for spring had a mean of 26 years old, with the youngest being 17 and the oldest being 60.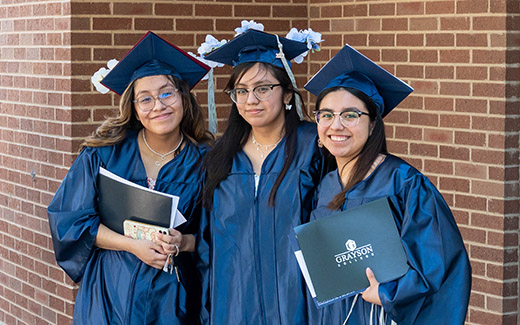 In addition to the three commencement ceremonies held Friday, the college celebrated students in a variety of programs through several other awards ceremonies. Earlier in the week, the college held an Adult Education Literacy and Center for Workplace Learning Recognition Ceremony, as well as a Radiology Pinning Ceremony. Other events included a Medical Lab Technician Lab Coat Ceremony and Nursing Pinning as well as Dental Assisting Pinning Ceremony.
"Our relationship doesn't end today," Dr. McMillen concluded. "We are here for you as you embark on launching a successful career or entering a university. You're a Grayson College Viking and we are committed to you."